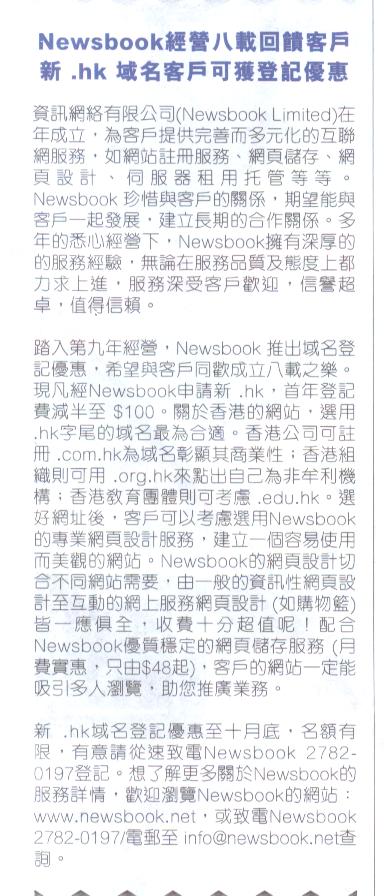 Newsbook set up in 1998, has many years of experience, providing professional web site storage, web design, domain name registration, email services and server hosting and server rental even hosting services, etc. . Newsbook treasure their relationship with customers, look forward to growing with customers and establish long-term relations of cooperation. The years of careful under operating, Newsbook have deep experience, the quality of service and attitudes are constantly improved, service has been welcomed by customer, excellent credibility, reliable.
Into the operation of the ninth, Newsbook launch discount of domain name registration, to celebrate the joy of the 8th anniversary with customer, Newsbook new applications in domain name. Hk, the first year of registration fees discount by half to HK$ 100. On the Web site of Hong Kong, choose. Hk domain name is most appropriate. Hong Kong companies can be registered. Com.hk domain name of their business for demonstrated; Hong Kong organizations available in the. Org.hk to point out their own non-profit-making institutions; educational bodies in Hong Kong could be considered. Edu.hk. After make a decision of web site, customers can consider Newsbook professional web design services, establish an easy-to-use and attractive website. Newsbook web design to meet the needs of different sites, from general information to the interactive nature of web page design web design web-based services (such as shopping baskets) are readily available, fees are very value! Stability with high-quality website of Newsbook storage services (monthly fee just only from HK$ 48), the customer's Web site will attract people to browse, help your business in promoted.
New. Hk domain name registration discount deadline in October, places are limited, interested in it please call as soon as possible to register. Newsbook 2782-0197. For more information about the services in Newsbook, please visit Newsbook site: www.newsbook.net, or call Newsbook 2782-0197 / e-mail to info@newsbook.net inquiries.