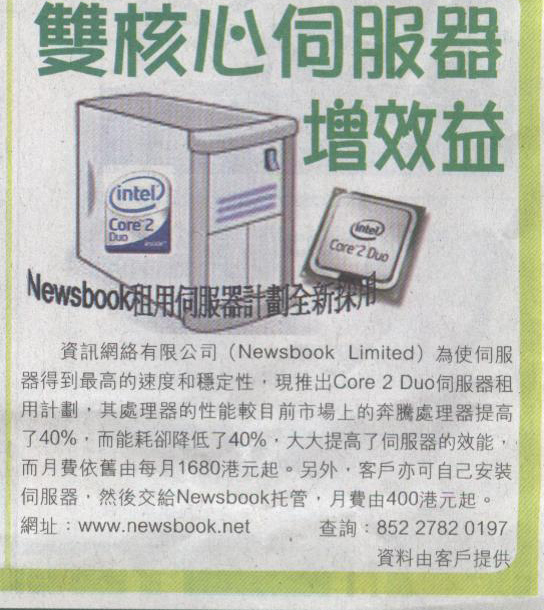 Newsbook Limited (Newsbook Limited) server rental hosting plan has always been well received by different kinds of customers. Newsbook servers are equipped with advanced hardware; speed and stability both are superior. As the place of data center servers have a first-class security and safety measures, so customers can feel at ease about the management of servers, no longer to worry about server security issues. Together with the professional and technical personnel of Newsbook help customers solve the problems which are encountered by the server, so it is wise decision to choose Newsbook.

Newsbook close to the market, is now presenting a Core 2 Duo ﹝ Core 2 Duo dual-core server rental plan ﹞. Core 2 Duo is Intel's revolutionary progress in the core of the CPU, comparable can be changed to 486 to upgrade to Pentium ﹝Pentium﹞. Core 2 Duo processor performance is better than the current Pentium by 40% while energy consumption has decreased by 40% on the market, greatly improving the performance of the server.

Newsbook standard server rental program using the new Core 2 Dual-Core E6300, E6400 and E6600, the same price customers can enjoy the brand-new CPU technologies, such as optimization of the multi-tasking. With 2G to 4G of memory and 250G hard disk, the server can operate more efficiently. Newsbook Standard program greatly enhance the effectiveness of the scheme while price is the same, a monthly fee starting from HK$1680.

To meet the needs of different customers, Newsbook also provide economic and high-level server-based rental scheme. Economic price of the rental plans as low as HK$600 a month, suitable for general use; High type is equipped with dual Xeon CPU Xeon, effectively the complexity of running high-load applications such as 3D games. Customers according to their need, choose a different server Program of Newsbook.

In addition, customers can also install their own server, and then hosting to Newsbook, a monthly fee starting from HK$400. Newsbook has different server services, there must be one fits you. Such as shared, do not have hesitate, please order as soon as possible. Would like to know more details of the server services in Newsbook, please visit Newsbook site: www.newsbook.net, or call Newsbook 2782-0197 / e-mail to info@newsbook.net inquiries.