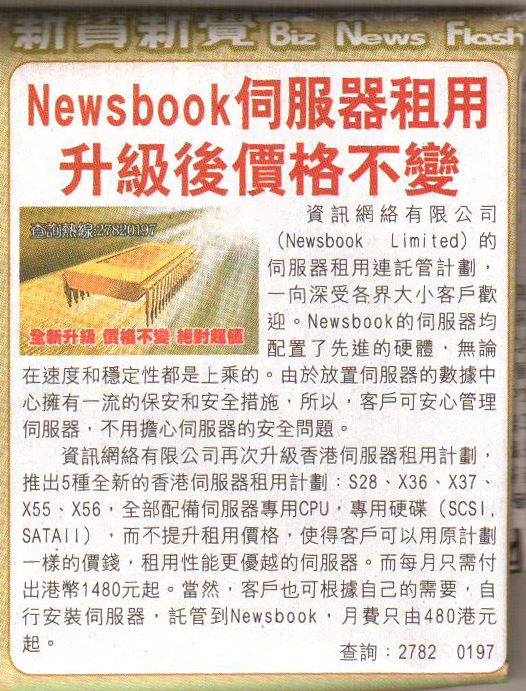 Newsbook Limited (Newsbook Limited) the server rental and hosting services is one of the most popular items in customers. Newsbook servers are equipped with advanced hardware; both in speed and stability are superior. As the place of data center servers have a first-class security and safety measures, so customers can feel at ease about the management of servers, no longer to worry about server security issues. Because of that, customers become more and more.
Central processing unit of Intel's Xeon series is designed to be used in computing a large amount of data. A faster procedures server can effectively run the complicated high-load applications. It is Intel Company specialized designed for server using the central processing unit. This series of central processing unit of the CPU is more expensive than ordinary CPU ,and 2 xeon (quad-core Xeon) CPU could run at the same time, its stability and low temperature is the largest selling point of this central processing series. Newsbook Limited (Newsbook Limited) in view of this, let customers to use more professional server, enhance high-level type server rental scheme again, the introduction of 5 kinds of new high-level type server rental plan with 2 Xeon series of 4 core of CPU, price unchanged, enabling customers to use the greater server hosting service in the same price. Newsbook are upgrading the server rental plan type X21, X32, X33, X52, X53 to X22, X34, X35, X54, X55, its central processing unit to configure the two Xeon (quad-core Xeon) E5310A, Xeon (four nuclear Xeon) E5320A, or Xeon (quad-core Xeon) E5335A, and distribution with 8GB of super-memory, two 300GB (SATA) or two 73GB (SCSI) super hard disk.
Newsbook another to meet the needs of different customers, also provides economic, standards-based server rental plan. And the economic plan, the monthly fee only by HK$880, the rental will be hosted on the server in nine different data centers in Hong Kong. Customers may according their needs to install the server, and then hosting in Newsbook, a monthly fee of only start from HK$480.
Newsbook was established in 1998 and has been on high quality and cheap price to provide customers with Internet services, including web hosting, web design, server rental and hosting and so on. Corporate customers in an increasing number of cases, Newsbook expanding service levels and service quality, in order to meet customer needs better.
Newsbook services on detail, please visit the website Newsbook: www.newsbook.net, or call the company telephone 27820197 or e-mail to info@newsbook.net inquiries.