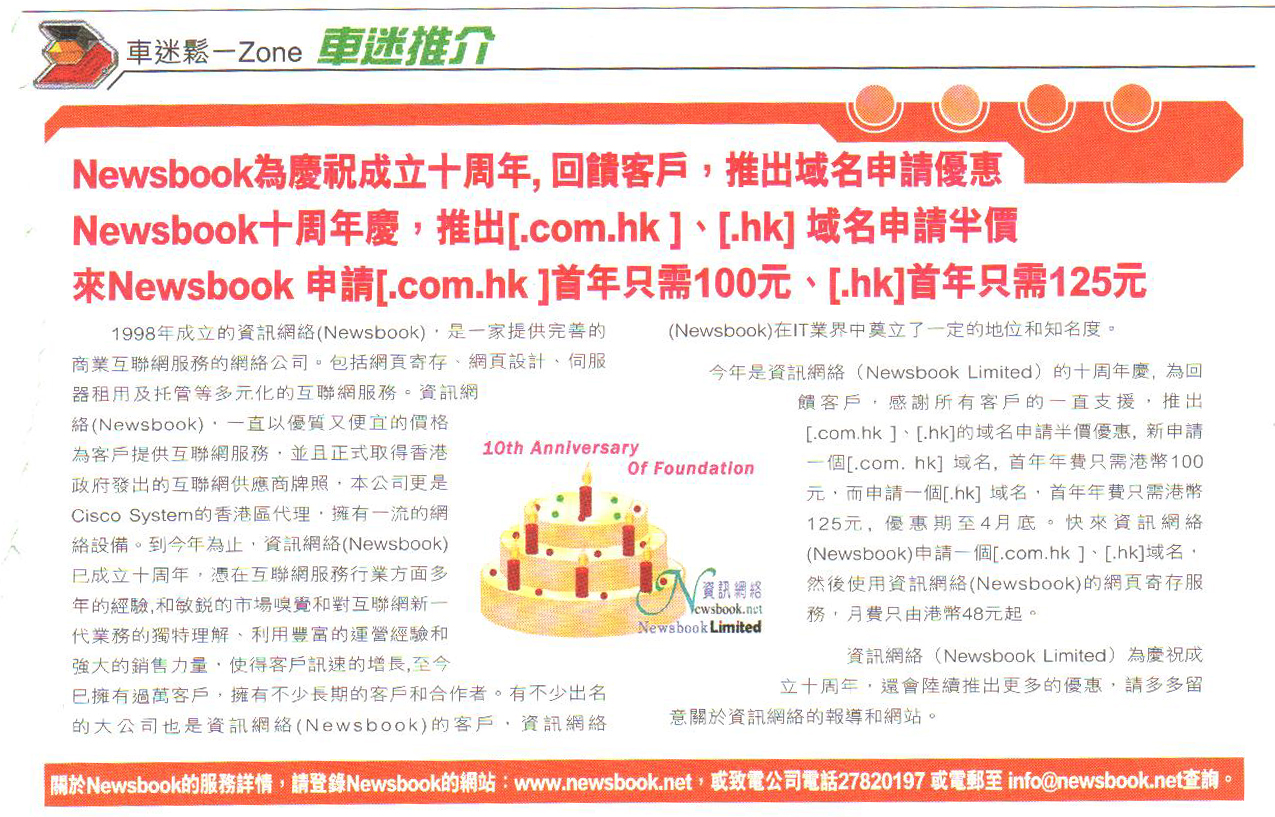 Newsbook Limited (Newsbook) established in 1998, is a company of providing comprehensive services of business Internet work, including web hosting, web design, server hosting, and rental and so on. We have diversification services of Internet. Newsbook Limited (Newsbook), has been high quality and cheap price to provide customers with Internet services, and formally issued by the Government of the Hong Kong Internet Service Providers license, our company is Cisco System's Hong Kong agents, have a first-class network equipment. By the end of this year, Newsbook Limited (Newsbook) has been established ten years, with the excellent experience of this industry about the Internet services and a keen sense of a new generation of business in the market, unique understanding of it, using a wealth of operating experience and strong sales force, making rapid growth in customers which has been having a million. We own a large number of long-term customers and partners. There are many well-known large companies also Newsbook Limited (Newsbook)'s customers, Newsbook (Newsbook) laid in the IT industry in a certain status and reputation.
This year is the Newsbook Limited (Newsbook Limited) of the tenth anniversary. Thanks for all the customers support, apply for the introduction domain name [. Com.hk],[. Hk] is half-price concession. Apply the new domain names of [. Com. hk], the first year only costs HK$100, and apply for a [. hk] domain name, the first year costs just HK 125.The discount period is at the end of April. Come to Newsbook Limited (Newsbook) apply a [ . com.hk], or [. hk] domain name, then use the Newsbook Limited (Newsbook) web hosting services, a monthly fee only from HK$48.

Newsbook (Newsbook Limited) to celebrate the tenth anniversary of her establishment, will continue to introduce more preferential, please pay attention to reports and website on the Newsbook Limited.

Newsbook services on detail, please visit the website Newsbook: www.newsbook.net, or call the company telephone 27820197 or e-mail to info@newsbook.net inquiries.