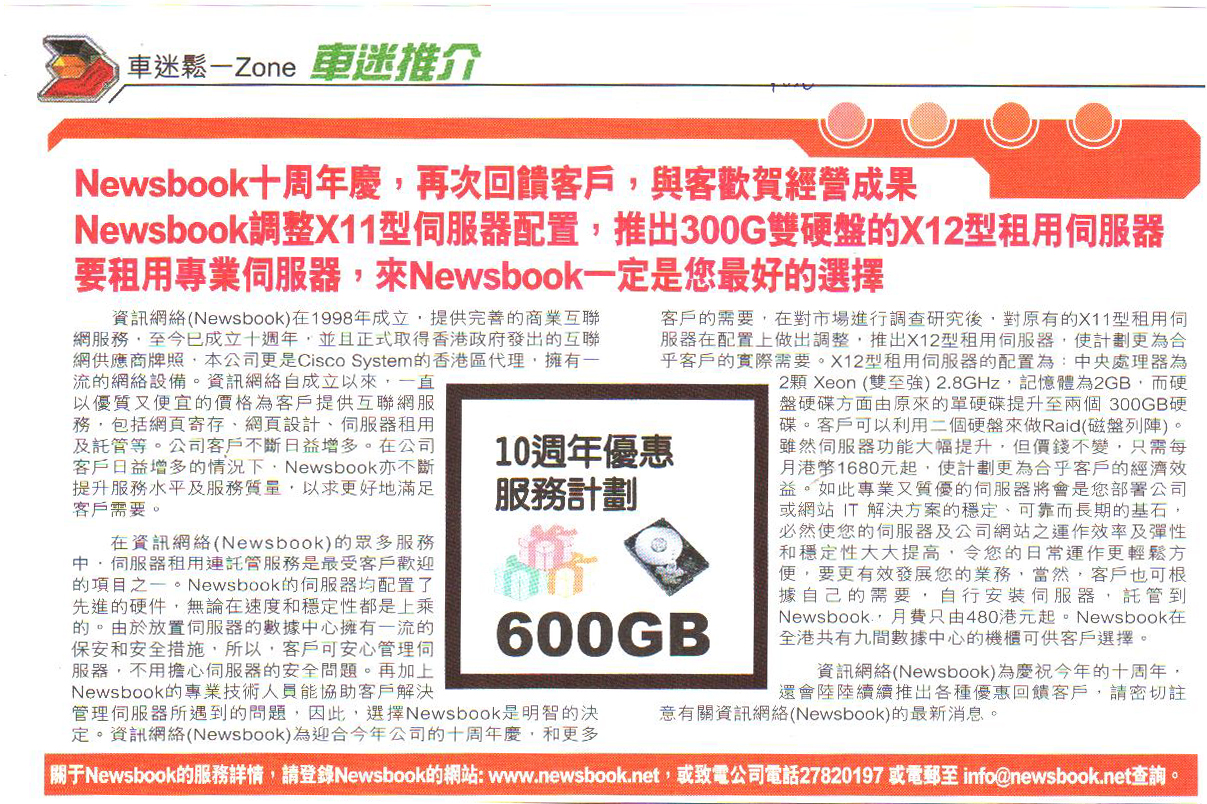 Newsbook Limited (Newsbook) was established in 1998 providing comprehensive commercial Internet services. The tenth anniversary of her establishment, having official issued by the Government in Hong Kong Internet Service Providers license, our company is Cisco System's Hong Kong agents, having first-class network equipment. Since the establishment of Newsbook Limited, she has been committed to the quality and cheap price to provide customers with Internet services, including web hosting, web design, server rental and hosting and so on. With increasing number of clients, corporate customers in an increasing number of cases, Newsbook expanding service levels and service quality, in order to meet customer needs better.
In types of Newsbook Limited (Newsbook) services, the server rental and hosting services is one of the most popular items in customers. Newsbook servers are equipped with advanced hardware; both in speed and stability are superior. As the place of data center servers have a first-class security and safety measures, so customers can feel at ease about the management of servers, no longer to worry about server security issues. Together with the professional and technical personnel of Newsbook help customers solve the problems which are encountered by the server, so it is wise decision to choose Newsbook. Newsbook Limited (Newsbook) in order to celebrate tenth anniversary, and meet more customer's needs,make adjustments to the original lease of the X11-based server after taking the surveys and researches on the market in the configuration, launch X12-based server rental, meet the practical needs of customers. X12-based server hosting configuration for: the central processing unit for the two Xeon (dual Xeon) 2.8GHz, memory to 2GB, while the hard disk from a single hardware context disc two 300GB hard drives to. Customers can make use of two hard disk Raid(magnetic array). Although the server functionality increases, the prices remain the same, just bottom on HK $1680 per month. This plan is more economic benefits of customers. So professional and excellent real server will be your company to deploy or Web site IT solutions' reliable and long-term cornerstone. The server is bound to make your company's Web site of the operation and efficiency and greatly improved flexibility and stability, so that your ordinary operation is ease and comfort, it is necessary to more effectively develop your business of course, customers can also be according to their own needs, self-install the server, hosting in Newsbook, only a monthly fee starting from HK$480. Newsbook total has nine cabinet data center options for customers.
Information network (Newsbook) to celebrate the tenth anniversary this year, will be introduced gradually added back to clients in various concessions, please pay attention to the information network (Newsbook) the latest news. Newsbook services in detail, please visit the website Newsbook: www.newsbook.net, or call the company telephone 27820197 or e-mail to info@newsbook.net inquiries.