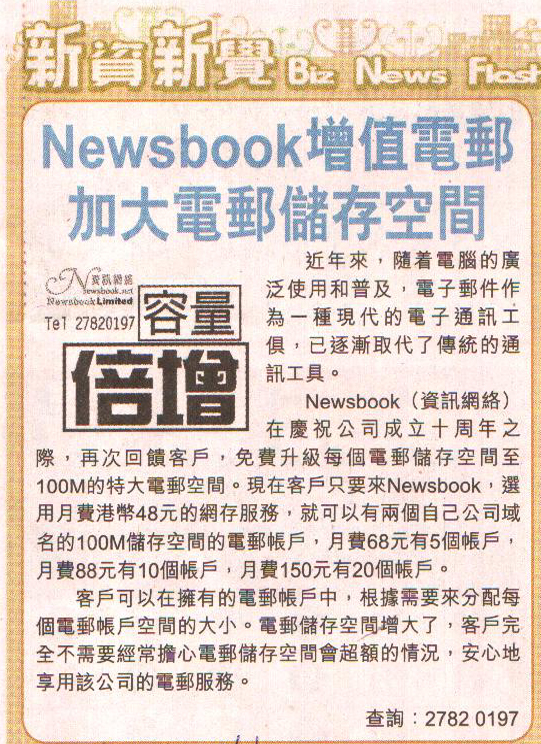 With the widespread use of computers as well as the great development of the Internet, we have entered into the electronic information era. Traditional correspondence of communication would no longer meet our needs, and was taking the place by e-mail which is modern electronic communication tools. E-mail is convenient exchanges between people, closer to the distance between them. E-mail takes us beyond the time and space constraints, anytime, anywhere to send and receive messages quickly and easily to save, record, moreover reduce paper waste, make a certain contribution in protection of the environment. E-mail has become the most popular and most commonly tools used in modern communication, particularly more significant in the commercial applications. Many companies now are using e-mail in business via exchanges, so a high-speed, stable e-mail server for a successful company is indispensable. Newsbook e-mail service is not only fast, stable, but also e-mail filtering service, on behalf of your isolation virus, spam, so your success in work, rest assured. However, with the more recipient, ordinary e-mail storage space may not be sufficient to meet your needs. If the e-mail storage space is too small, so that you can not accept e-mail, and missed an important message or an opportunity to do business, it is sorrow. In view of this, Newsbook companies in celebration of the tenth anniversary of the establishment, once again thanks for clients, each e-mail a free upgrade to 100MB of storage space for large e-mail. Customers now choose Newsbook web storage services plan which is HK $48 monthly fee, you can have two 100MB storage space email account which domain names by individuals or companies, costs five in 68 per month, ten in 88 per month. In addition, the Newsbook Limited all e-mail servers with e-mail space have functions of free distribution, existing and new customers can be in accordance with the needs of all my colleagues, It's easily to measure the size of the e-mail space. Free for the enhanced reference services above. There are both for the convenience and needs of customer. At the same time, E-mail storage space increases, customers do not have to worry the issue of mail is over again, to enjoy our company's e-mail services from the peace of mind.
Newsbook was established in 1998 and has been on high quality and cheap price to provide customers with Internet services, including web hosting, web design, server rental and hosting and so on. Corporate customers in an increasing number of cases, Newsbook expanding service levels and service quality, in order to meet customer needs better.
Newsbook services information in detail, please visit the website Newsbook: www.newsbook.net, or call the company telephone 27820197 or e-mail to info@newsbook.net inquiries.