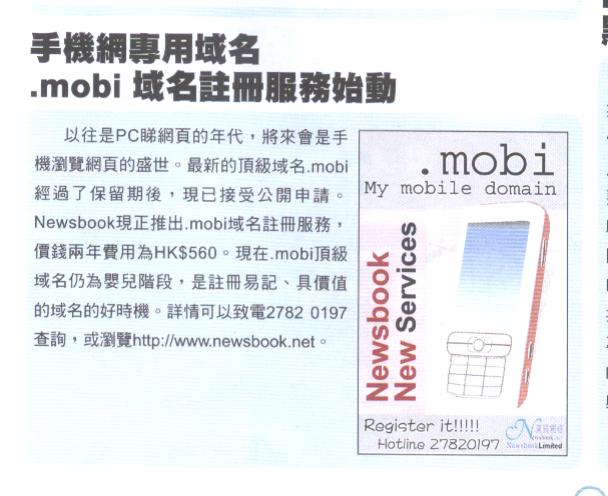 Today, new style mobile phone is colorful, different kinds design in hardware and software. It's function including making a call, videos, listening the radio, MP3 player, play games, send and receive e-mail, browse Internet, and mobile web site continue to improve. For the majority of mobile phone users, we provide the best quality of service. A growing number of companies are engaged in this kind of service-related, but how to make your customers more quickly query to your company? Newsbook is introduced. mobi domain name registration service, which will allow you phone business at a glance, the price of two years, only HKD560, Come Newsbook to apply. mobi mobile domain name!
Newsbook provide a variety of domain name registration services, including international domain names (. Com,. Net,. Org,. Info,. Biz), Hong Kong domain names(. Com.hk,. Net.hk,. Org.hk,. Edu ,. hk,. idv.hk, Chinese name. hk), other areas of the domain name, such as: company name Macau (. com.mo), Taiwan's domain name (. tw), Italy domain name (. it), the Spanish domain name (. es), the British company domain name (. co.uk) and so on, to meet your different needs. Besides a professional domain name, perhaps you may need a professional, attractive, could be browsed smoothly web pages, Newsbook can help you! Newsbook have professional designer, providing easier access to Web page design services to meet the product sales better, attracting the attention of customers.
In addition, you can also choose the Newsbook web hosting service, only a monthly fee starting from HKD48; you can enjoy fast and stable network system, protecting your customers visit website smoothly. In fact, Newsbook provide a full range of Internet services, including web hosting, web design, server rental and hosting and so on. If your company needs the server service, you can contact Newsbook! Newsbook server provided a 100Mbps high-speed broadband to support one of the busiest Internet connection applications. it's stored data center Sunday can provide the entire 24-hour NOC monitoring and restart service. In a word, as long as you need, Newsbook can provide one-stop Internet service!
Newsbook business for many years, have experienced technical staff, first-class service, providing customers with comprehensive Internet services, web page design is being introduced, storage, domain name registration of discount packages, the server hardware is upgrade while price is the same, please contact us! Phone: 2782 0197, e-mail: info@newsbook.net, Web site: http://www. newsbook.net.