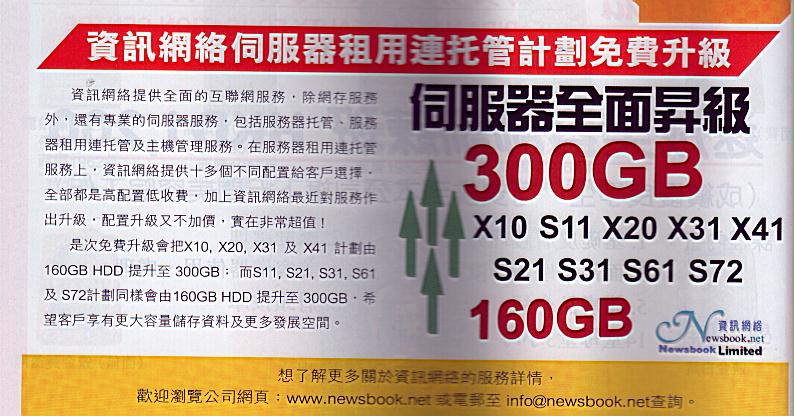 Newsbook business for many years, with experience in senior services, providing customers with comprehensive business Internet services, to improve the quality of service and attitude strive to enrich it is trustworthy. In addition to providing professional information network, as well as the rental service, hosting services, that meets the needs of different customers. Besides the above, the newsbook has experienced engineers; provide one-stop services for you, using the server services may choose to use professional management services at the same time.

To show the sincerity of the newsbook service, from now on, the host management service fees will be adjusted significantly. SV01 basic system (WEB + FTP) maintenance management, SV03 mail system (MAIL) and SV04 maintenance management database system (SQL / MySQL) maintenance and management services,these three services will be met by the annual fee from HK $ 3600 reduced to HK $ 3000. And new add the discount of payment in 6 months or 3 months. payment for 6 months fee is HK $ 1800 and payment for 3 months fee is HK $ 1000. If purchased all the SV01 + SV03 + SV04 at the same time, fees are HK $ 7000 a year, HK $ 3800 half year and HK $ 2000 3 months. The charge of SV02 basic system and software maintenance management services is from HK $ 700 reduced to HK $ 500; charge of SV09 additional software installation service is from HK $ 1000 reduced to HK $ 800. And hardware even providing fire service plans fee is HK $ 3600, together with the pay plan of monthly or seasonal, fees were HK $ 2100 or HK $ 1050.

Newsbook management hosting services both professional and cost-effective, and provide customers with one-stop services to meet the needs of customers. It is very convenient. If the above are interested in the details, please call 27820197 or e-mail to info@newsbook.net inquiries.