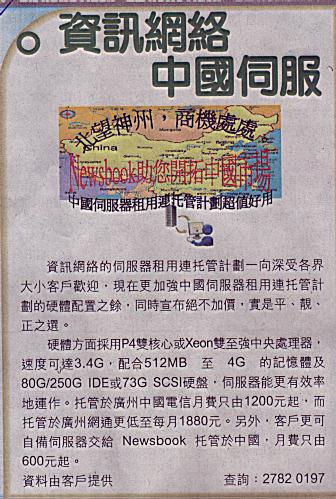 Newsbook (Newsbook Limited) server rental hosting plan has always been well received by different kinds of customers. Newsbook servers are equipped with advanced hardware; both in speed and stability are superior. As the place of data center servers have a first-class security and safety measures, so customers can feel at ease about the management of servers, no longer to worry about server security issues. So it is wise decision to choose Newsbook. Newsbook as early as in 2000 launched a China server hosting plans and rented a server hosted in China plans. It is gives you more time, to open up the huge Mainland market faster. Since the launch, is most welcome.
Now, Newsbook strengthen China's hosting server and hire scheme, also the hardware configuration is upgrade, certainly not increase the price, it is value, good and choice. Hardware or the use of P4 dual-core Xeon Dual Xeon CPU, at speeds of up to 3.4G, and 4G with 512MB of memory and 73G SCSI or 80G/250G IDE hard disk, the server can operate more efficiently. Customers could accord their own needs to choose different Program of the Newsbook Chinese server and rented Care. From now on, Newsbook hire Chinese server hosting plans besides pre-paid for one year or six months plan, even add new pre-paid three-month payment options to customers for more flexible financial arrangements. Data center, Newsbook provides China Telecom and Netcom in Guangzhou for customers. China Telecom and Netcom have a stable network and first-class security, so customers could set their heart in rest of the management of servers, not have to worry about the network or server security. China Telecom in Guangzhou hosted monthly starting from HK$1200, and hosted in Guangzhou Netcom is lowest at HK$1880 per month! Newsbook China server hosting plans price is low, and performance is high, ordered it quickly!
In addition, customers can be self-hosted server to Newsbook in China, only a monthly fee starting from HK$600.
Newsbook servers have different service plans are available, besides hosting in China mainland, also can be hosted in Hong Kong and enjoy greater bandwidth. Newsbook hosting Program in Hong Kong by the Hong Kong is starting from HK$400 a month. Newsbook rented server hosting plan as low as HK$600 monthly fee. Newsbook meet customer needs, there must be a right one for you, do not hesitate, order it as soon as possible please. Newsbook services in detail, please visit Newsbook site: www.newsbook.net, or call Newsbook 2782-0197 / e-mail to info@newsbook.net inquiries.